Gallimaufry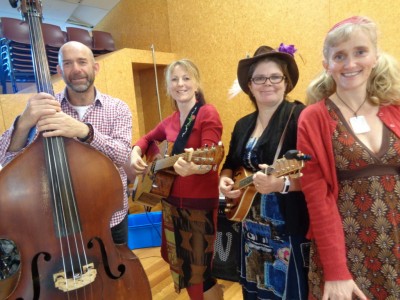 Jun 29 2016
Click here to read our July newsletter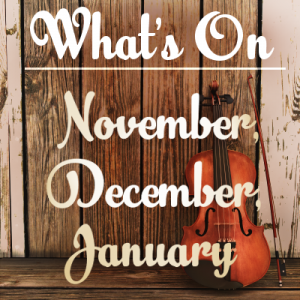 Nov 29 2015
NOVEMBER 2020
Nov 13  – DUSTY & THE SEPIA TONES featuring Cameron Burnell, with Lightnin' Michael Muggeridge on guitar and Emily Griffiths, wild celtic fairy fiddler.   7:30 pm at the Scottish Hall, 155 Bartholomew Road, Levin   Cost $10 public/$5 members.   Open mic to start with light supper.  Guest concert is after intermission: approx 9pm.
Nov 27 –  Club Night at the Scottish Hall   7:30 pm $2
DECEMBER 2020
Dec 11  –  Bluegrass band BARRY AND THE CRUMPETS – A Good Keen Band playing at approx 9pm.  Open mic to start with social Xmas supper!  Plates of any kind most appreciated.   Cost $5 for all, bring your friends for this special night.  Doors open 7pm
No Club Night until Feb 2021
Feb 12 – Guests:  BUTTER WOULDN'T MELT
Also, check out Levin Folk Music on FB for club concerts, local musical events and house concerts.
****************************************************
CAFE CONCERTS from D.A.L.E.  – – held at Country Kitchen Cafe & Waffle House, 3 Muhunoa East Road, Ohau   Come early for a lunch/coffee – Table bookings to dalewebb143@gmail.com or 027 2079695   2-3 pm  Please bring cash for performers!
OCT 18 – PIP PAYNE – Bluesman  Cost:$15/$10 unwaged
NOV 8 – WANDRELLA –Contemporary folk  Cost: $15/$10 unwaged
NOV 22 – SKIFFY RIVETS with Cathy Dyer on bass – Harmonies through the eras  Cost: $15/$10 unwaged
DEC 6 – GLORY BOX with Karen Clarke & Celine Filbee  Cost: $15/$10 unwaged
DEC 13 – PAUL HOLCOMBE – Contemporary, loop pedal favourites Cost: $15/$10 unwaged
By Chairperson • AGM, Guest Artists, News • 0 • Tags: acoustic night, Across the Great Divide, Adam McGrath, Alan Downes, Andrea Reid, Andy Irvine, Annette Esquenet, BB & Alex, Bob McNeill, Butter Wouldn't Melt, club nights, Danny Priestley, Dave Murphy, Derek Burfield, early starts, Erin Manu & Frank John, Frank John Trio, Gallimaufry, Gillian Boucher, guest artists, Helen Dorothy, Himatangi Hootenanny, Himmerland; Sadie&Jay, Hobnail, Hot Diggity, Janet Muggeridge, Kate & Bob, Katy Charlton-Jones, Legal Tender Duo, Madillionaires, Mid-Winter, Neil Billington, Nick Burfield, Niels Gedge, Parabola West, Pete & Skiffy Rivets, Raven Mavens; Neil Billington; Levity Beet, Reverie, Steph Casey, Tony Hillyard, Victoria Vigenser, Vikki Clayton, We Mavericks, Wellington Folk Festival, Wilkiemac, Xmas Concert