UPDATE:   ANNETTE ESQUINET AND STEPH CASEY PERFORM JULY 10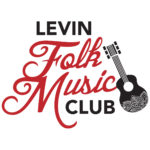 Hello to all our folk club members and friends,
I am happy to report that our first concert night post COVID19 was a great success, and we all coped with the remaining restrictions. It now seems clear that we can relax a little and will no longer be compelled to social distancing, limited numbers and such things.
Our concert on July 10th will feature Adam McGrath, a very talented singer songwriter. Adam has toured and played with everyone from Fleetwood Mac  to Steve Earle to Paul Kelly to Old Crow Medicine. Described by RNZ as "a national treasure ", Adam McGrath is at home with bluegrass, blues, country and rock 'n roll as much as he is with folk, and is known for the intensity, passion, love and humour of his performances.
As the June concert proved so successful, with the main event beginning at 7.30 pm, we are going to repeat this timing.  In the cold winter season many people appreciated the earlier start, and those who wanted to go home early were able to do so. Our July concert coincides with the Mid-Winter Holler at Tatum Park, which several of our members plan to attend, so an earlier departure for this event will be appreciated by them.
We will also reduce the supper time available.  Hot tea or coffee will be available, but many of the participants at the June concert felt that it was unnecessary to have the kind of supper we have supplied for the last few years.  The team producing supper were relieved to be freed up somewhat and to not have a lot of preparation before the concert or cleanup to do at the end of the night.  Hopefully a simpler supper will encourage other club members to help out, even if only for one concert night in the year.
We are looking at the volunteers' tasks again and would like to ask you to consider helping in some way. A schedule of tasks for the rest of this year will  be passed around at the July concert, and we would appreciate it if any able-bodied members could put their names down in at least one slot, or talk to one of the committee members about how you would be prepared to assist.
Advance notice of our August 14th  concert  – Bob Cooper-Grundy and Kate Marshall.  This concert will return to the former timing, with the guests' concert following the Blackboard, as these guests are travelling from further afield. More details in the next email.
Happily Dale is hosting a House Concert this month, featuring Ronel Hunter, (whose LFMC concert had to be postponed with the pandemic lockdown.)  This concert will be held on Sunday 19th July at 3.- 5.30 pm. Ronel is a lovely singer/songwriter who plays contemporary originals and covers. She writes songs about real life and her focus is on the story a song has to tell. Please reserve your seat with dalewebb143@gmail.com or text 027 2079695.  Koha is $10 pp plus a small plate to share, and Dale invites you to feel free to arrive early to mingle and grab yourself a comfy chair.
Our AGM for this year will be held on Wednesday August 12th in the Scottish Hall at 7.30pm. Please consider whether you would like to nominate anyone for the role of Chairperson, Treasurer, Secretary or Committee member.  Nomination forms will be available at the next Concert night on July 10th and will also be attached to the email to members giving official notice of the AGM which you should receive in early July.
Keep cosy and enjoy lots of good music in these cold winter months.
Jean Hollis
Secretary