Newsletter September 2014
Levin Folk Club: Second Friday of every month at 7:30pm Horowhenua Scottish Society Hall, corner Bartholomew Road and Middlesex Street, Levin
This is our club's 25th Anniversary celebration. Please, if you are able, do bring along a special finger food supper treat that's easy to share. Entry will be $5.00 regardless of membership – so please bring a friend (or three) to help us celebrate.
Gumboot Tango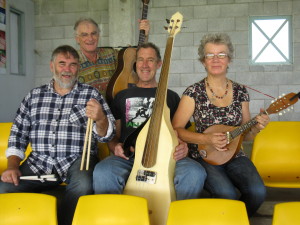 Our special guests are Gumboot Tango from Taranaki.
Gumboot Tango have a long association with our folk club and will give you a great rousing musical celebration.
Join us for a wonderful night of remembering the origins of the folk club, the hard work of those who have kept it going and to celebrate its successes.
Kiwi songs from rustic roots to big-smoke blues. The 'Tango, Mike Harding, Janet Muggeridge, Steve Muggeridge and Wayne Morris, celebrate New Zealand songs and songwriters with a farmyard-infectious humour guaranteed to put a smile on your feet and the swing back in a Taranaki gate. Gumboot Tango – an earthy yet sophisticated musical experience.
Read the newsletter